Custom Photo Jewelry | Laser Etched Photo Jewelry | Photo Pendants in 18k gold or 900 Silver
The ultimate in personalized jewelry!
Your photo permanently etched on 18k gold or 900 Silver pendant.
Pictures, designs...all at your discretion.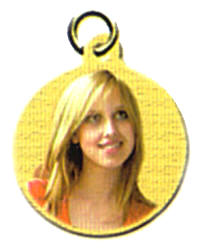 Includes a free mother of pearl box.
Sizes and gram weights given are approximates, size will vary in order to meet the minimum grams of gold we publish. These are minimum grams, your jewelry will not weight less than this. All sales are considered final on photo jewelry.
All of our jewelry bears a stamp of authenticity from the Egyptian government guaranteeing the quality of the metallic alloy to be 18k gold, 900 silver or 925 silver. . Please take the time to read here.
How to order FAQ's
What can you put on your pendant? Anything you want...photos, personal artwork, but we need the photo! If you can draw it we can do it! You can submit your photo to us here or if you prefer mail it to us at info@fromcairo.com

STEP 1:

Send us your photo, you will immediately be given a message that it has been successfully sent in the box below:

STEP 2:

Select your style and size

Product Specifications:

18k Gold

Includes mother of pearl box.
Approx. Diameter 7/8"
$220.00

900 Silver, Approx. 1"

Includes mother of pearl box.
$70.00

Confused? Need help?...click here to "chat" with us online. We're here to help!