Journey into the magical world of Egypt where the past is alive.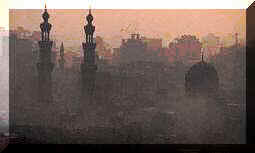 Cairo the name alone evokes mystery and awe, the home of the Pyramids of Giza, the cradle of civilization. From Cairo with Love... is a company dedicated to bringing the best of Egypt to your world with classic treasures including cartouches, Egyptian jewelry, papyrus paintings, glassworks, perfumes, and much more! We have been serving the public for over 75 years in our family business which has been handed down - generation to generation. We eliminate the middle-man and sell direct from our workshops and showrooms.
Our craftsman are hand picked for their talents and come from the world's oldest bazaar: Khan El Khalili (Khalil). Usually referred to simply as the "khan" it was built in 1382, and over 500 years later it is still a thriving unique bazaar. Entering into the khan is opening the door into a vibrant rich history full of magic and mystery. Arts almost lost are carefully nurtured back to life.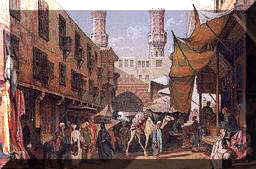 Egyptian Jewelry
We offer you a superb quality of silver (900) and of 18k gold cartouches and pendants and amulets. All of our jewelry bears the governmental stamp of authenticity guaranteeing the quality of metallic alloy. Please be advised that there is no "sterling silver" jewelry in Egypt. We have hand selected our master jewelers for their quality in workmanship and talent. Likewise our style selection reflects discrimination.
Cartouches - A Timeless Treasure
Create your Cartouche
We invite you to enjoy the magic of a cartouche. In the tradition of the Pharaohs cartouches were originally designed for the kings and queens of Ancient Egypt. They were believed to have magical powers and brought good luck and protection to those who wore them. The cartouche has evolved to be the universal symbol of long life and good luck. Now you can have your name in hieroglyphics just like the pharaoh's of Ancient Egypt. In addition to the traditional hieroglyphic symbols we also offer many special symbols such as zodiac signs and numbers for you to personalize your cartouche. We have selected our most distinctive designs for you to enjoy your personalized jewelry.
Pendants and Amulets
We have selected some of our favorite designs including renditions of King Tut, Nefertiti, the pyramids, and the sphinx to name a few. We've included some unique "evil eye" pendants with a flair! We are sure these pieces will bring a delight to the wearer for years to come.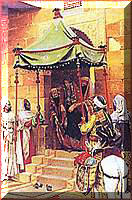 Perfume Oils & Absolute Attars
Egypt has long been known for its essential oils. Tombs opened after thousands of years contained essential oils still fragrant. Now you can experience the best in aromatherapy meditation oils with our selection of quality attar oils.
Egypt has been on the spice and fragrance trade routes for centuries. We have teamed up with the best perfume trading houses in Egypt and we are able to offer designer absolute oils at a fraction of the cost. Now there is no reason not indulge in pure luxury with your favorite fragrance oil.
Blown Glass: Perfume Bottles, Christmas Ornaments, Candlesticks, Oil Diffusers, Tea and Decanter Sets...
History shows that glass blowing was an art mastered by the Ancient Egyptians thousands of years ago. Glass bottles have been discovered in many of the ancient tombs, including the tomb of King Tut. Legends tell us that they were designed to hold the tears of the Pharaohs.
Today we are fortunate to be able to offer these exotic bottles and Christmas ornaments using the best materials and professional artisans from Egypt. Direct from our factory to you. Indulge in delicate luxury with our individually mouth blown glass blown items. We've added aromatherapy oil burners and oil lamps, candlesticks and more items are on the way. Each is hand painted and trimmed in gold. A variety of colors and styles. Each piece is an exquisite piece of art.
Papyrus Paintings
Our papyrus painting collection on line for you to view. The use of vibrant colors and designs will be a treasure for all. Check back often as we will be adding more pieces. Here you will find Egyptian mythology and heroes brought to life, the gods and goddesses of Ancient Egypt captured in art. Our artist Khedr and his family are the best in Egypt, and we are sure you will appreciate their talents.