Personalized Egyptian Jewelry | Bangles and Bracelets | Personalized Egyptian Open Style Cartouche Bangle in 925 Sterling Silver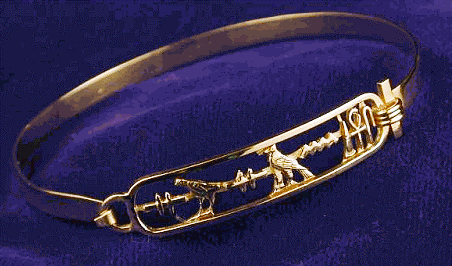 Shown in Gold available in Silver. Your choice of 900 silver symbols or contrasting 18k yellow gold symbols
| | |
| --- | --- |
| | Display your name, initials or inscription (up to 9 symbols) |
| | Use our hieroglyphic typewriter to see your name or choose symbols in English or Arabic. |
| | Your personalized cartouche usually ships within 48 hours, 3 business day delivery available...see shipping FAQ's for details. |
| | You will be given a chance for any special instructions, i.e. symbol choice when you click on the "add to cart" link, click here to see an example of the ordering process. |
| | Please take the time to read our policies. |
| | If you need help with designing your cartouche, or just have a quick question...click here to "chat" with us online. We're here to help! |

Available in 6, 7, 8, or 9 inches
up to 9 silver symbols* $80.00

up to 4 18k Gold symbols* $112.00

5 - 6 18k Gold symbols * $123.00

7 - 9 18k Gold symbols *$143.00

If you need a custom size contact us.

What is a Cartouche? A Cartouche (pronounced "kar-toosh") is actually a French word meaning 'gun cartridge'. When Napoleon's soldiers were in Egypt, they called the oval shaped etchings surrounding the king names "cartouche" because it reminded them of the shape of their gun cartridges, or bullets. Cartouches have a a long lasting legend that dates back over 5000 years ago. A Cartouche was originally designed for the Pharaohs to be an amulet of protection. Each Cartouche had the name of the person wearing it written in Egyptian Hieroglyphics King Tut... Ramses... Nefertiti... Cleopatra. Your personalized cartouche jewelry will be hand made in our Cairo workshop. Custom orders welcomed.
*Please note: Each cartouche is an individual work of art and there will be variance. Specifications dimensions are approximate, Approximate sizes :Up to 4 symbols 1 1/4 " long, up to 6 symbols 1 1/2" long, and up to 9 symbols 1 3/4" long. Final size of the cartouche will depend on the symbols. There are no refunds on cartouches as each one is a personalized order. The artists reserve the right to choose the hieroglyphic symbols and arrangement. (Some letters such as "a" "h" and "m" have two symbols.) If you have particular symbols please advise us in the "Special Instructions" box on the order form.